Foreword
Dear members, dear interested parties,
We are pleased to present the second ALASCA newsletter. A look at the contents shows that ALASCA is developing very well.
In addition to the ALASCA Tech Talks that are constantly evolving and already enjoying an established audience, (Attention: from September on happening every last Friday of the month, at 11 a.m.)ALASCA also presented itself at the OpenInfra Summit in Vancouver. We have also continued to develop us an organization and have been able to identify structures and processes to further develop the life of our association. Here, we are always happy about the active support of our members as well as third parties who, together with us, advance ALASCA's vision of digital sovereignty.
Another highlight of the last quarter was the press conference initiated by ALASCA, a so-called round table, to which we were able to attract top-class experts from business and politics as well as several representatives of the press. The result was a relaxed round of talks in the Dresden state parliament as well as an exciting exchange on achieving digital sovereignty in Germany, but especially at regional level.
Have fun reading!
Marius Feldmann
Board of Directors ALASCA e.V.
Content of our newsletter
Expansion of the association structure
At the end of April this year, we sat down with various ALASCA members to discuss how we can further expand the association. The following two areas were looked at: ALASCA's governance model and the inclusion of new open source projects.
An important result of the discussion on the governance model is the formation of a Technical Steering Committee (TSC), which will mainly take care of technical tasks in the association. This includes, for example, the (further) development of an ALASCA roadmap from a technical perspective and the evaluation and selection of new open source projects in the association. The members and further details about the TSC will be announced soon.
Furthermore, it is part of ALASCA's vision to include other open source projects around the topic of cloud infrastructures in the association in addition to Yaook. We have exchanged many exciting ideas on the design - for example, on the selection and admission process. The main consensus here is that we want to take into account the different development stages of the projects. We are thinking here of open source projects that are just starting up or have existed for some time; but they can also be small one-man projects or even projects that are not yet open source but are striving to be - and are happy to be supported by us in their transformation. This is in line with our guiding principle to strengthen Europe's open source movement for the purpose of digital sovereignty and to keep the barriers as low as possible for all those who want to participate.
We will of course keep you informed about further developments on the topic of the Governance Model and project recordings!
ALASCA at the OpenInfra Summit 2023
From 13 to 15 June, the OpenInfra Summit 2023 took place in Vancouver, Canada. The Summit was a great opportunity to meet organisations and people who are active in the global open source community just like us. We are very happy that our pitch was accepted by the OpenInfra Summit and that we had the chance to present our mission and our contribution to digital sovereignty as well as to engage in an exchange with other open source enthusiasts.
In one of the Open Development Sessions, we (represented by María Vaquero from Cloud&Heat Technologies) explained the motivations and the need to create ALASCA. Here, María also shared more about our current projects and plans for the future and how we want to collaborate within the association and with other members of the wider community. After the presentation, we had the opportunity to gather valuable feedback and ideas from the audience about possible collaborations and about increasing ALASCA's contribution not only in Europe but also beyond the borders.
In addition to Maria's ALASCA presentation, we (represented by Robert Franzke from STACKIT and Stefan Hoffman from Cloud&Heat Technologies) presented ALASCA's first open source software project, Yaook. The room was crowded and the presentation was a very good starting point for further technical discussions between the Yaook experts and other participants who understand the challenges of running OpenStack-based clouds.
Overall, OpenInfra was full of interesting forum discussions and presentations. We had the opportunity to better understand other open source software projects managed by the OpenInfra Foundation and to talk to the experts of each project. It was also a wonderful event to exchange views and opinions on how to establish efficient processes of collaboration in different regions of the world and how to support communities in dealing with the challenges of open source development.
We also learned that OpenInfra will open two new hubs - one in Asia and one in Europe. We are convinced that these hubs will help to further advance open source technologies. Developing global strategies in the open source world is crucial, but also taking into account the specificities of different regions (e.g. cultural values, organisational concerns, local legislation and policies) are key to defining and implementing successful policies. Each organisation in the open source ecosystem in Europe can contribute from its own perspective and with its own focus and strengths to achieve common goals. We look forward to working with the new European OpenInfra Hub and the rest of the community on the road to digital sovereignty in the cloud.
ALASCA Round Table "Open Source and Regional IT Infrastructure as the Driving Force for Digital Sovereignty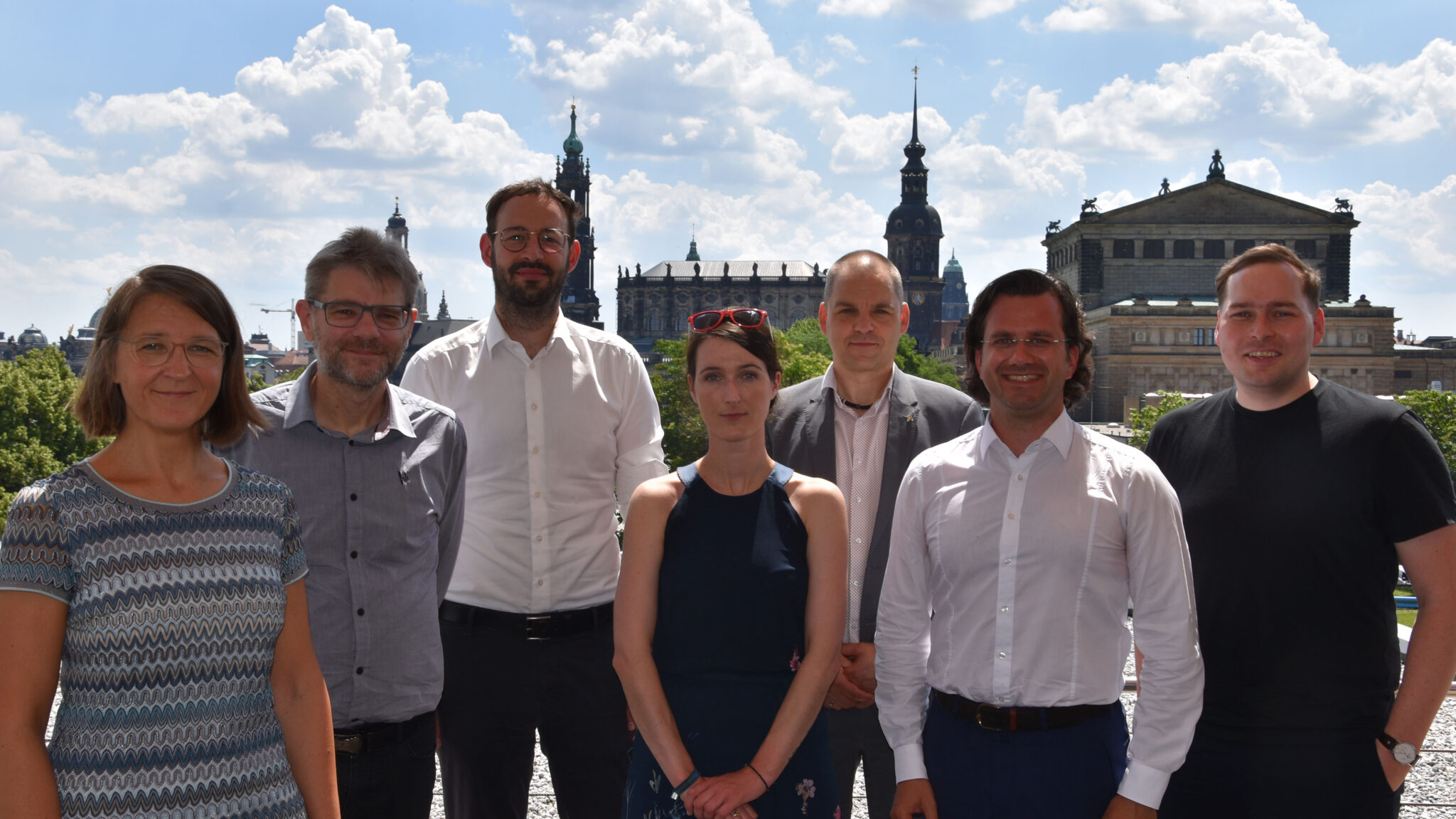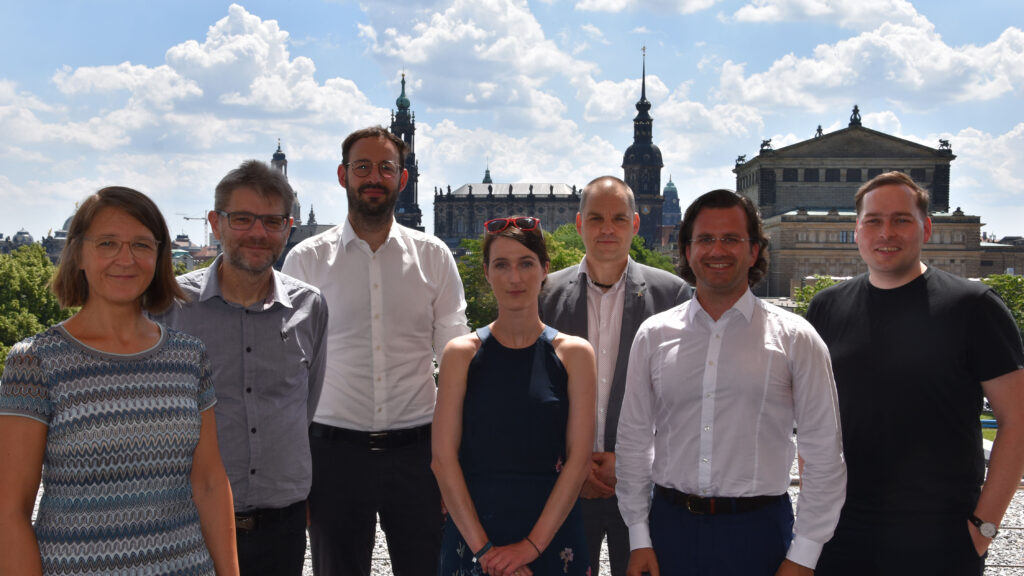 Meeting of experts on the roof of the Saxon State Parliament. (from left to right Frauke Greven/Digitalagentur Sachsen, Stephan Ilaender/STACKIT, Dr Daniel Gerber/BÜNDNIS 90/DIE GRÜNEN, Miriam Seyffarth/OSBA, Frank Bösenberg/Silicon Saxony, Paul Hertwig/N+P Informationssysteme, Dr Marius Feldmann/Cloud&Heat Technologies)
On 26 June 23, the round table initiated by ALASCA on the topic of Open Source and Regional IT Infrastructure as the Driving Force for Digital Sovereignty took place in the restaurant of the Saxon Parliament in Dresden. Within the top-class discussion round, current challenges as well as concrete steps on the part of politics and business for the implementation of measures were discussed, which are aimed at sustainably strengthening digital sovereignty in the regional environment. Associations and initiatives such as ALASCA provide the framework for this in order to bundle a wide range of competences across company boundaries. On an open-source basis, with open standards and at eye level between the actors.
It was a moderated discussion round of experts who discussed the topic and answered the journalists' questions. The discussion was moderated by Frank Bösenberg (Managing Director Silicon Saxony e.V.). The round table was attended by:
More information and the statements of the participants can be found here: https://alasca.cloud/alasca-round-table/
ALASCA Tech Talks
Since January, we have been hosting the online format ALASCA Tech-Talks. Every last Thursday of every month, the ALASCA Tech-Talks provide a platform to particulary discuss open source projects that have the potential to improve digital infrastructures and cloud services, as well as use cases that rely on these infrastructures and services. ATTENTION: Starting in September, ALASCA Tech Talks will take place on the last Friday of every month, at 11am.
In June you can expect a talk on the topic "Unleashing the Krake(n): Harnessing the Power of Krake for Optimal Kubernetes Workload Management". by Patrick Thiem (Cloud&Heat Technologies)
Below you will find a summary of the tech talks that have taken place so far:
Missed Tech Talks can be viewed afterwards on our YouTube channel: https://www.youtube.com/@alasca_e.V.
The ALASCA Tech Talks take place online every last Thursday of the month. You will receive the access data via the calendar entry (downloadable in the event announcement) or, if you wish, monthly via our mailing list. You want to be informed about upcoming Tech Talks? Then send us an email to hello@alasca.cloud and we will be happy to keep you informed.

Updates on our open source project Yaook
In the last newsletter we already gave you a technical update on our focus project Yaook given. In the following, we would like to inform you about the innovations of the last three months and the current development status of our open source lifecycle management tool.
Features:
Yaook/K8s: To deal with the changing URL of the Tigera Operator in different versions of Calico, a new approach has been taken. Instead of manually downloading and applying the Operator Manifest, we now use a Helm Chart for deployment. This change makes it easier for us to maintain the previous approach across past and future versions. Despite this change, we retain the flexibility to customise the deployment by passing in a custom values file. This allows us to customise and configure the deployment according to our specific needs while benefiting from the convenience and consistency of the Helm Chart.
We have introduced support for offline installation of Python packages in the Yaook/K8s subproject. This addition allows users to install required Python packages without an active internet connection and ensures a smoother installation process. There is also an implementation for the Yaook/Baremetal project to allow execution without an internet connection.
Yaook/Operator: We are pleased to announce support for shutting down the hypervisor in Nova Compute Eviction to avoid a lengthy workflow until the node is actually removed. This feature enhances the operator's capabilities and provides improved control over the eviction process. It also reduces the impact of a faulty hypervisor on the user and speeds up the process many times over.

This is a new function called "Eviction Manager" in a system called NovaDeployment. The purpose of this function is to monitor the status of hypervisors or compute services using the Nova API (a programme that helps manage virtual machines). When the Nova API indicates that a hypervisor has failed, the Eviction Manager performs the following actions:

Verify that the hypervisor has actually failed by using existing checks such as "virsh list" or pinging the node. If it is determined that the hypervisor is running, the job fails to raise an alarm.
Shut down the hypervisor with a tool called Ironic.
Wait until all locks, especially those related to volumes, are released. The duration of this wait can be configured. The duration should be based on the last communication received from Nova (so-called "Nova heartbeat").
Remove the hypervisor with the Nova API, which means removing it from the system.

To prevent erroneous removal of healthy hypervisors due to network problems or failures in the control plane, a threshold should be set. This threshold ensures that the eviction process (termination of pods) is stopped if too many hypervisors are reported as failed at the same time to avoid unnecessary evictions.
Ultimately, the existing logic for the eviction or migration process can remain unchanged, as Kubernetes already prevents two eviction jobs with the same name from running at the same time.

We are also pleased to announce the latest addition to our cloud infrastructure: the Ironic 2023.1 release, codenamed "Antelope".
Yaook/Baremetal: Additional flexibility through Netbox integration: We have integrated Netbox, a popular tool for IP address management and Data Centre Infrastructure Management (DCIM), to improve the flexibility and expandability of the project.
Fixes:
Several versions of Open vSwitch are vulnerable to manipulated IP packets with ip proto set to 0, leading to a potential denial of service. To trigger the vulnerability, an attacker would need to send a tampered IP packet with a protocol field of 0 and flow rules with "set" actions on other fields in the IP protocol header. The resulting flows would omit required actions and not mask the IP protocol field, resulting in a large bucket in which all IP packets are captured.
All versions of Open vSwitch, at least from 1.5.0, are affected.
Yaook/Operator: "crash looping" of the OVSDB relay: We have fixed a problem with a crash loop of the OVSDB Relay components to ensure a more stable and reliable operation. This is achieved by deleting the database: "The ovsdb-tool create command does not work if a database file already exists."

OVSDB Relay is a tool that helps different parts of a computer network to communicate with each other. It acts as a translator or mediator between the Open vSwitch Database (OVSDB) and other network devices.
Open vSwitch Database (OVSDB) is a system that stores information about network configuration and status, e.g. which devices are connected and how they should communicate.
OVSDB Relay monitors changes in the OVSDB and forwards this information to other network devices that need to be informed of these changes. For example, when a new network device is added to or removed from the OVSDB, the OVSDB Relay notifies other devices so they can update their configurations accordingly.
Simply put, the OVSDB Relay helps different parts of a network stay in sync by translating and relaying information between the OVSDB and other devices and have a common understanding of network configuration and status.

Yaook/Operator: Stability issues with OVN fixed: We have addressed several stability issues with OVN to further improve the reliability and performance of the system.

OVN stands for Open Virtual Network. It is a virtual network technology that helps manage and connect virtual machines (VMs) and containers in a computer network. OVN is based on Open vSwitch, a software switch that connects and routes network traffic between virtual machines.
Simply put, OVN provides a way to create and manage virtual networks for virtual machines and containers. It helps control how these virtual entities communicate with each other and with the physical network. OVN simplifies the configuration and management of virtual networks, making it easier to set up and maintain network connectivity in a virtualised environment.

Yaook/BaremetalFixed issues with file permissions: During the Docker build, copied files lose their original permissions and receive insecure permissions such as UMASK 666 or 777. These insecure permissions persist during deployment and create security risks.
Yaook/Baremetal: Added missing dependency of pip package "six": The Metal Controller crashes because the updated Keystoneauth package added a new dependency: https://opendev.org/openstack/keystoneauth/commit/ca28df84808787342303666e1b286dbc5ec88c61
Yaook/Baremetal: Permissions for the pip configuration have been corrected.
Yaook/Baremetal: Correctly revoke authentication token for Vault: The code was causing exceptions that broke access to Vault for the Metal Controller since we updated hvac to 0.11.2.
Various other fixes and bug fixes
Updates:
Added support for Kubernetes (K8s) 1.25 and all upcoming patch versions. With this update, Yaook now supports the latest version of Kubernetes and ensures compatibility with future patches.
Support for Kubernetes versions 1.19 to 1.23 discontinued. In order to focus on the latest versions of Kubernetes and reduce maintenance costs, we have discontinued support for older versions. We recommend that users upgrade to the latest supported version.
OpenStack version removed from ovn-bgp-agent: To streamline and simplify the project, we have removed the OpenStack version dependency from the ovn-bgp-agent component.

"ovn-bgp-agent" is a component of the Open Virtual Network (OVN) system that manages the functionality of the Border Gateway Protocol (BGP). BGP is a protocol used in computer networks to exchange routing information between different autonomous systems (ASes).

Documentation improvements: We have significantly improved the project documentation, making it more comprehensive, accessible and user-friendly.
Increased security: We have set more restrictive permissions for copied files in the metal controller image to improve the overall security situation of the project.
Outlook:
Looking to the future, the Yaook project aims to address several key challenges and implement exciting new features. These include:
Upgrade path for newer OpenStack/OVN releases: We are actively working on developing a seamless upgrade path for the latest OpenStack and OVN releases to ensure that users can effortlessly stay up to date with the latest developments.
Stability of OVN: We are committed to further improving the stability of the OVN component, focusing on eliminating potential problems and improving overall performance.
Node lifecycle operator for updates: To enable smoother updates and maintenance, we are looking into developing a node lifecycle operator. This operator would automate the process of reinstalling nodes during updates, optimising the process for administrators.
Release management: We are currently working to establish a robust routine, workflow and tools for release management of the project. This includes implementing automated release notes and documentation updates. As Yaook/K8s is relatively new in this respect, we will use it as a "playground" to experiment and find a suitable workflow that can later be applied to other project components.
Further development of the Yaook/K8s subproject to improve integration with other Kubernetes features and tools.
Extension of Yaook/Operator functionality to enable automation of routine tasks and improvement of system performance.
Continue work on the Yaook/Baremetal project to extend support for different hardware and infrastructure platforms.
Improve the documentation and usability of the entire Yaook project to facilitate implementation and use for developers and administrators.
Until next time
Do you have any questions or comments about our news? Then please contact us via hello@alasca.cloud with us. We look forward to hearing from you.
If you would like to receive the newsletter quarterly directly in your mailbox, you are welcome to sign up for the newsletter distribution list using the contact form below.
Until next time, we wish you a good time.